Opawica Gold Project, Québec
Mosaic acquired the Opawica Gold Project in September 2018 from Stellar AfricaGold Inc. for 7,200,000 shares of Mosaic valued at $360,000 plus a 2% Net Smelter Return royalty ("NSR") one-half of which may be purchased by Mosaic for $1,000,000.
The Opawica Gold Project is located in Québec approximately 55 km south of the town of Chibougamau. Quebec's historical Chibougamau mining district, Nord-du-Québec, is part of the prolific Abitibi Greenstone Belt. The Nord-du-Québec district produces $2.237 billions in annual production, 27.6% of Québec's total mining production, and is the largest mining production district in Québec. (2016 data from the Institut de la Statistique du Québec, January 2019)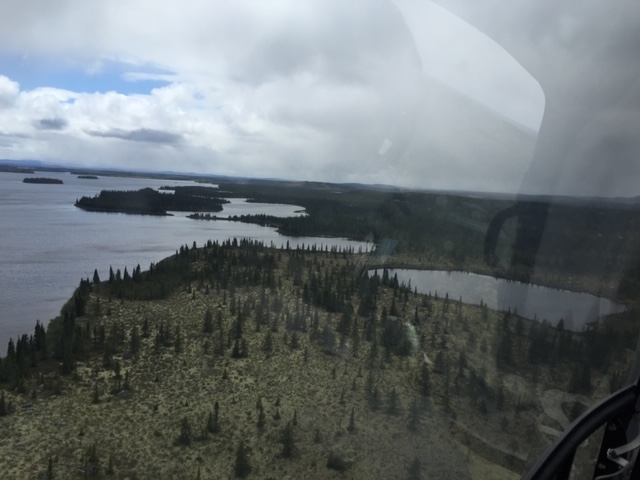 The Opawica Gold Project consists of three discrete claim blocks: the Philibert-I block of 4 contiguous CDC (map-staked claims) covering 223.9 hectares in Gamache Township, the Opawica North block of 14 contiguous CDC covering 783.45 hectares in Rohault Township and the Opawica South block of 15 contiguous CDC covering 840.43 hectares in Gamache township.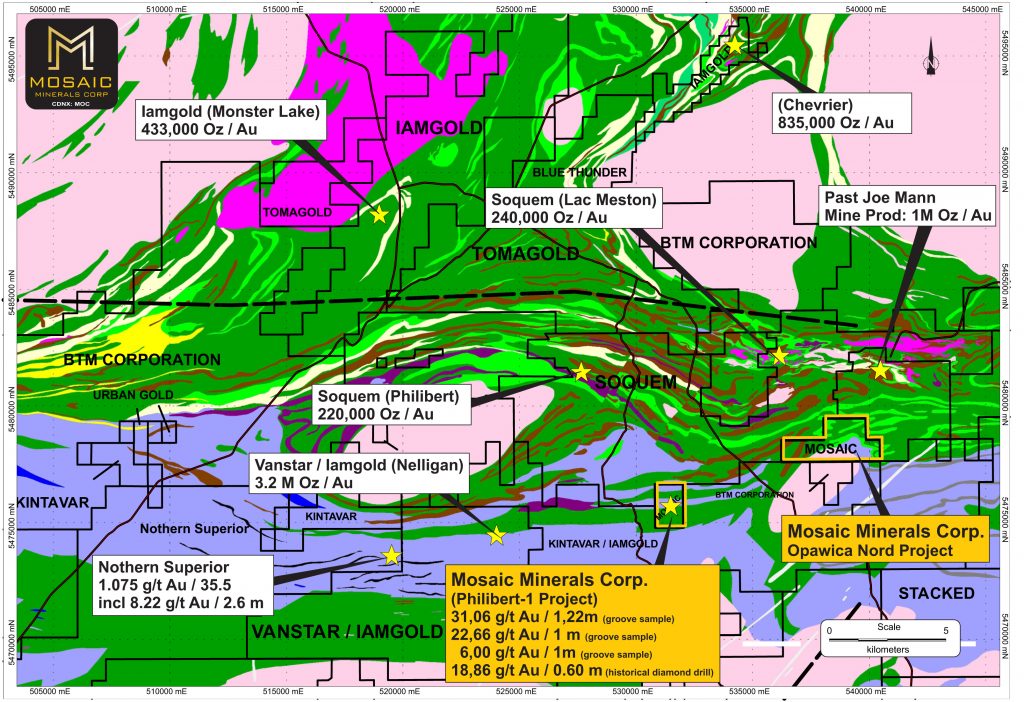 Key Historical Exploration
In 1983, SOQUEM performed a geological mapping in the Philibert-I area and discovered the Philibert-I showing. Gold was associated with quartz-tourmaline-pyrite veins. The best value obtained by SOQUEM in the main quartz-vein was to 31.06 g/t Au over 1.2 metres and some values (3.17-2.19 g/t Au) in quartz-veinlets. Five shallow diamond drill holes totaling of 377 metres were drilled and the best result was obtained in a single hole (#973-02) which assayed 18.86 g/t Au over 0.6 metres.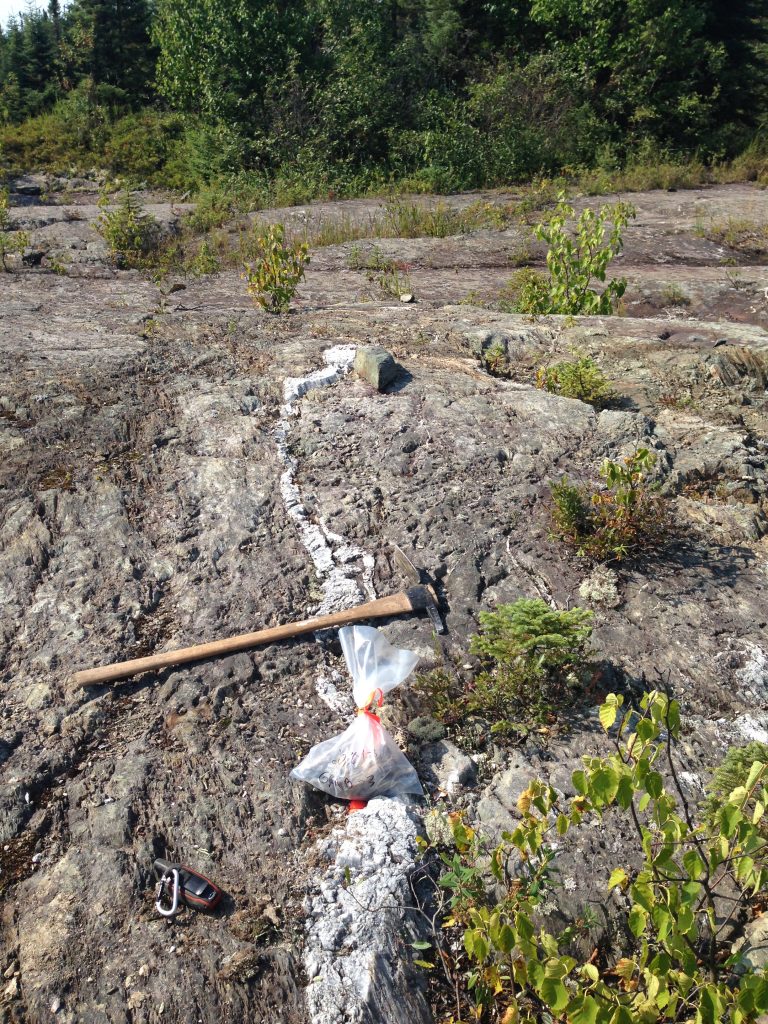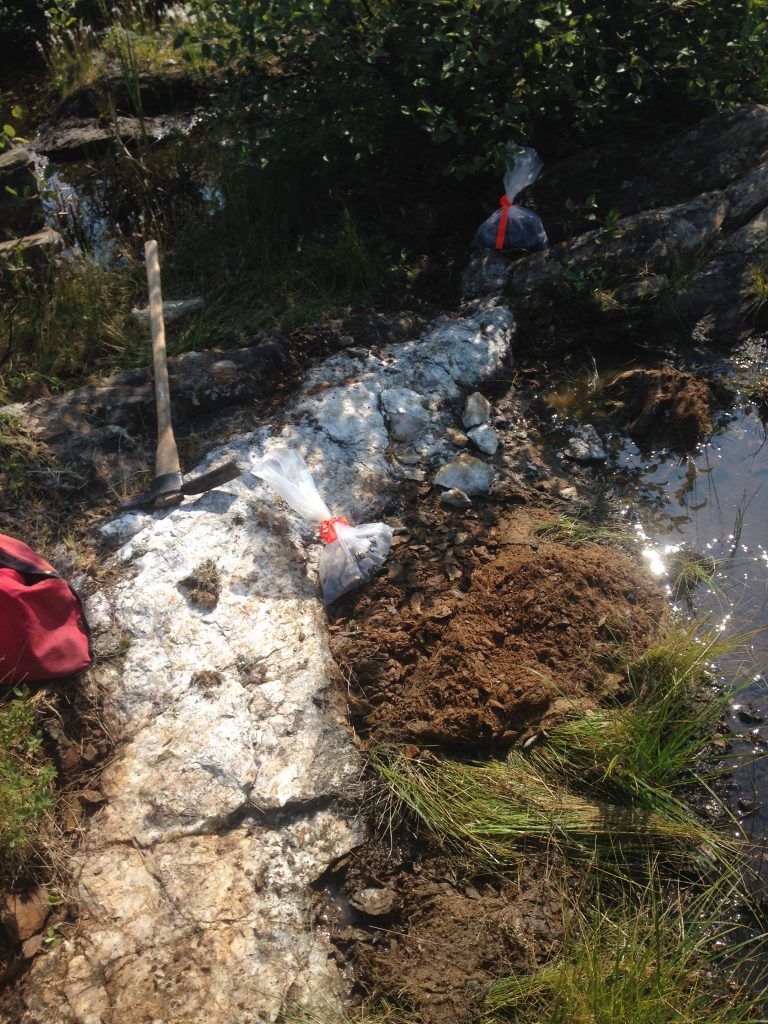 In February 2014 Géophysique GPR International carried out a high resolution airborne magnetic and electromagnetic geophysical survey. Analysis and interpretation of these data by Geophysicist Marc Boivin of MBgeosolutions returned more than a dozen targets for gold and base metals, and multiple faults and shear zones.
In 2016, Stellar AfricaGold inc. carried out a channel sampling program on the Philibert-I showing, including 6 channels for a total of 14.1 m. Best results returned 2.58 g/t Au over 1.65 metre and 7.84 g/t Au over 1 metre. Gold grades were associated with quartz-tourmaline-pyrite veins hosted in amphibolite derived from coarse grained basalt to gabbro. A geological mapping based on Beep Mat anomalies was also identified outcrops in the Philibert-I block and in the Opawica North block. A total of 11 Grab samples were collected without gold values.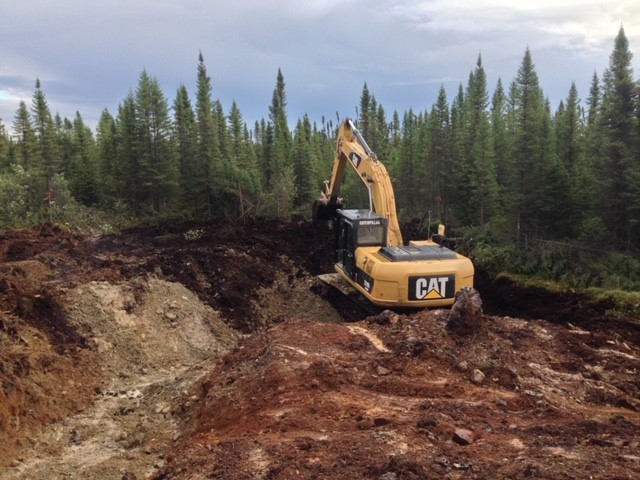 Recent Exploration by Mosaic
In 2018, at the direction of Mosaic, Jérôme Augustin, P. Geo. Ph.D. of Laurentia Exploration Inc. and Jérôme Augustin, P. Geo. Ph.D. of GoldMinds Geoservices Inc., produced a NI43-101 Technical Report on Opawica's 3 blocks of claims. The complete NI43-101 Technical Report (October 16, 2018) is available here.
The authors recommended a $600,000 work program in 2 phases. During the 2018 winter exploration season most of the $126,000 Phase 1 program on the Philibert-I block was completed, the line cutting and IP survey were successfully completed, and 11 drill targets were identified. The complete Technical Report Resistivity and Induced Polarization Survey Technical Report (December 12, 2018) by Joël Dubé, P.Eng. of Dynamic Discovery Geoscience is available here.