Lithium SM Project
The Lithium SM property, 20 kilometers long by approximately 10 kilometers high, is intersected in its center by a EW fault as well as by a few faults trending ENE.
In the southern part of the property, numerous lithium anomalies associated directly with pegmatites currently suggest a favorable horizon of more than 5 kilometers.
At the center of the project, a volcanic band runs east to west along a high-intensity magnetic anomaly. Several electromagnetic conductors (inputs) are twinned with this volcanic horizon and this magnetic anomaly. The showings composed of strategic minerals in Cu, Zn, Ni and Li seem to be associated with this corridor.
Very little historical work has been done on this project over the years. A few holes completed in the 1970s returned anomalous zinc and copper values in zones strongly mineralized in pyrite and pyrrhotite. The lack of prospecting in the past, however, offers very interesting discovery potential for the entire property. Following the development of several logging roads in recent decades, the Lithium SM project is currently very accessible. The bedrock uncovered by the various forestry works now outcrops in several places, which favors better sampling and better prospecting.
The management of the company intends to quickly carry out some work on this project including an aerial magnetic survey as well as compilation work and 3D geophysical modeling in collaboration with the company GoldSpot Discoveries. As the winter period is fast approaching, however, it will not be possible to begin a geological and prospecting survey before next spring.
Dalmas SM Project
Located in the Adina lithium showing sector from Winsome Resources. Recent drilling by Winsome has highlighted over 160 meters of pegmatite collectively intercepted while drilling below the recently discovered Jamar outcrop at Adina. In addition, the most recent analyzes of the Jamar outcrop yielded exceptional grades of up to 4.89% Li2O.
The Dalmas SM project is located in a favorable geological environment for strategic minerals such as lithium, nickel, copper, chromium and cobalt. We find the presence of peridotite, pyroxenite as well as a pegmatitic granite containing beryl. According to data from the Quebec Ministry of Energy and Natural Resources, this property contains several geochemical showings of nickel, copper, and lithium.
Maqua SM Project
According to data from the Quebec Ministry of Energy and Natural Resources (MERN), the new Maqua SM project, consisting of 69 cells with a size of approximately 3,569 hectares and located in the granitic suite of Vieux Comptoir, can offer phases of spodumene pegmatites. There is very little geological data currently available on this project. This vast project is located west of the Mia L1 and Mia L2 lithium showings recently acquired by Queensland Gold Hills (See press release of November 28, 2022).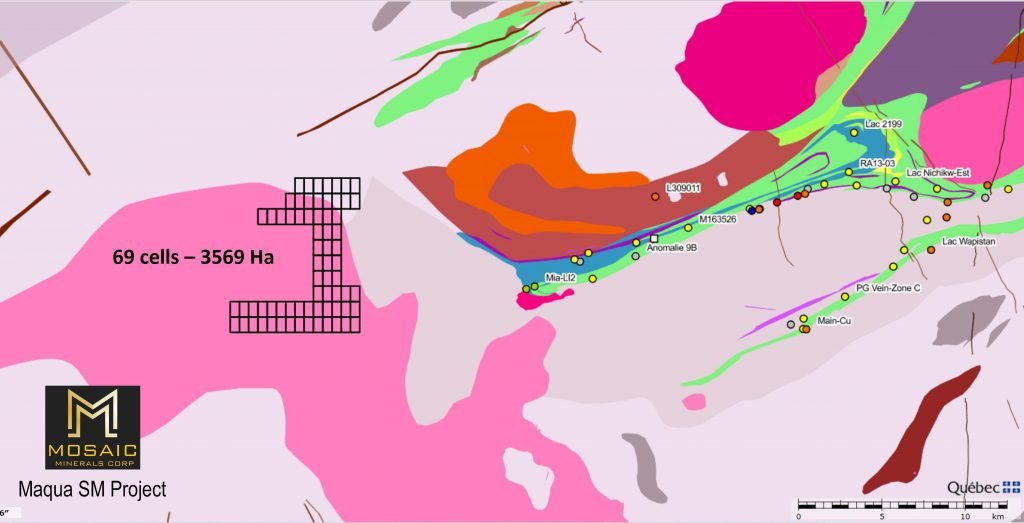 Gervais SM Project
The Gervais SM project consists of four (4) mining blocks in a sector comprising several showings of cobalt, copper, zinc, and nickel as well as lithium. This project totals 28 cells for a dimension of approximately 1,535 hectares. This project is located west of the Sirmac and Moblan lithium showings.
Bordier SM Project
The Bordier project comprising 48 cells for an area of approximately 2,651 hectares is located further south, along the Ontario border. According to the MERN, several random rock samples revealed significant lithium values.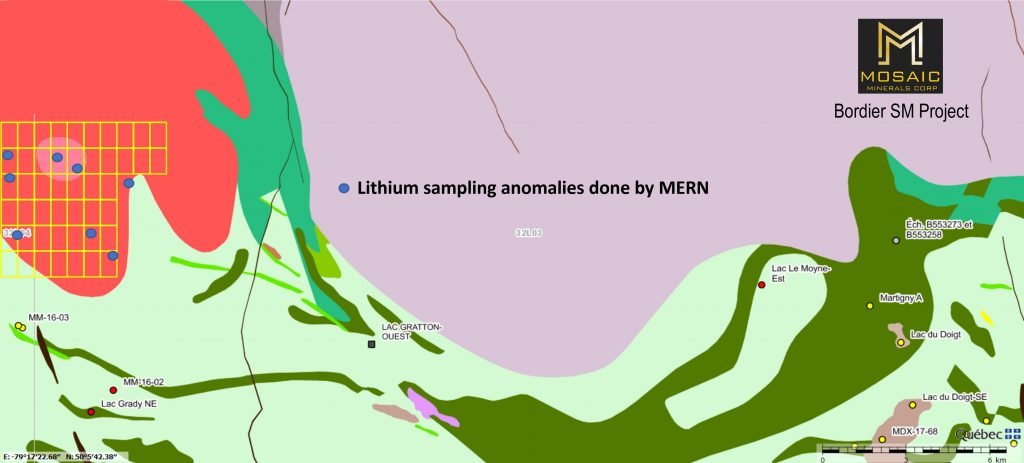 Sakami SM Project
Made up of 11 cells covering an area of 570 hectares, the Sakami SM property is in contact with a biotite paragneiss and a white pegmatitic granite and an alkali feldspar and biotite and muscovite, tourmaline, garnet, and beryl in the Lake Sakami area.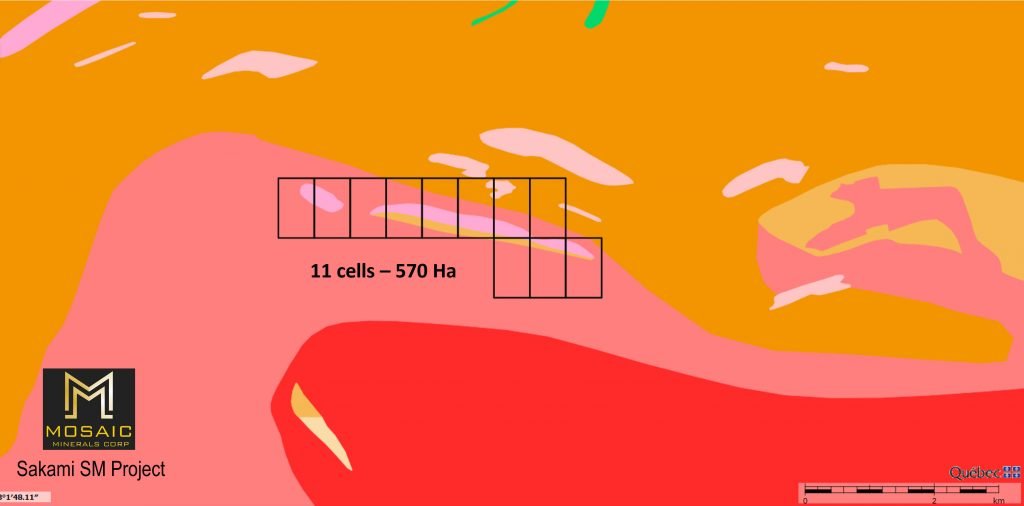 Depending on the exploration budgets available, these projects should all be the subject of exploration work including a geological, geochemical, and geophysical survey as well as detailed sampling during the spring and summer of 2023. All these projects are accessible year-round via main and forest roads.
Lithium is a key player in the global decarbonization effort, as it is a key component of lithium-ion batteries as well as the next generation lithium-iron-phosphate (LFP) batteries used to power electric vehicles (EV). This essential mineral is also widely used in other industrial applications, such as cell phones, laptops, glass, and ceramic production, among others.