Pluton SM Project
Located directly adjacent to Patriot Battery Metals (PMET.V) Corvette lithium project, the 110 claims constituting the Pluton SM project are located in an environment comprising granitic intrusives with the presence of biotite and muscovite, two minerals considered as markers in the search for lithium. A few surface samples taken in this environment by the MERN gave indications of lithium and thorium contents. The latter is a potential indicator for the presence of minerals such as cesium or rubidium which are themselves useful markers for the search for lithium.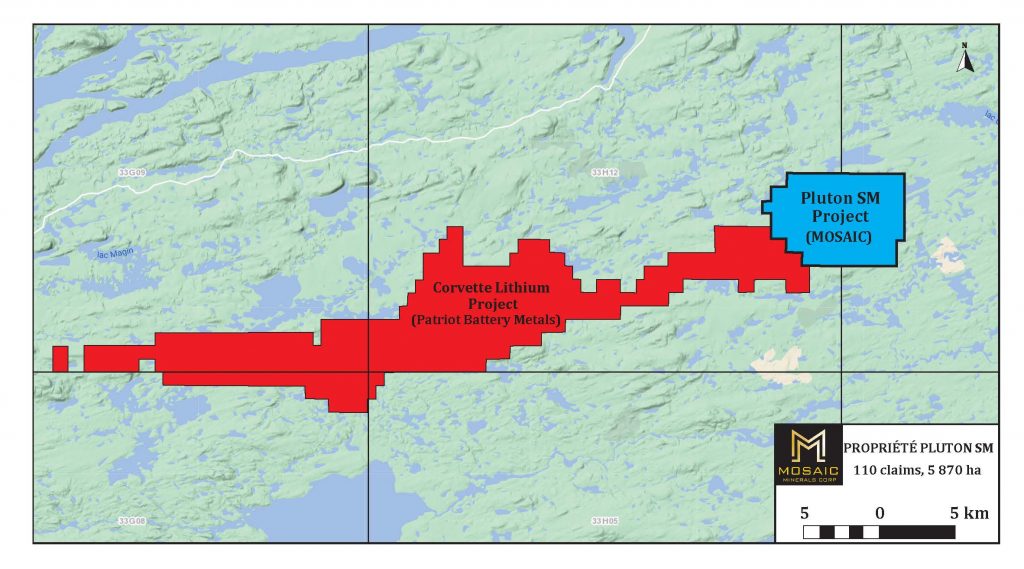 An extensive exploration program is planned for summer 2023.
read more
Amanda Project
Composed of 145 cells covering an area of ​​7,677 hectares, this project is located on Eeyou Istchee territory, James Bay, approximately 65 kilometers northeast of the Whabouchi lithium deposit (Nemaska).
17 historical drillings with pegmatites not analyzed for lithium (GM 55430, GM 56493, GM 60051).
34 pegmatite samples taken by Vanstar Mining Resources in 2020 (2020 Technominex Report – Amanda Project) not analyzed for lithium.
31 pegmatite samples taken by the MRNF in 1998 not analyzed for lithium.
Visual presence of spodumene
4 known gold showings (best result : AC-97-31 12.11 g/t Au over 3m)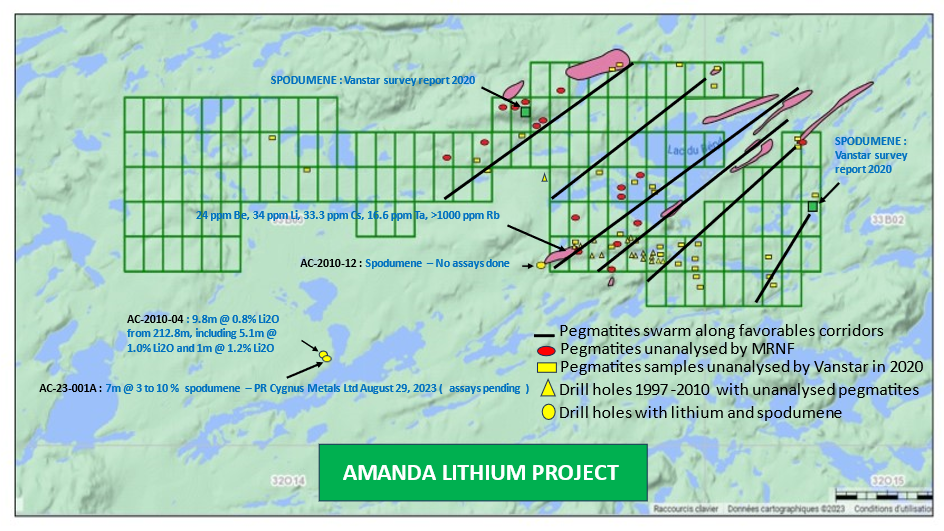 read more
Lithium SM Project
The Lithium SM property, 20 kilometers long by approximately 10 kilometers high, is intersected in its center by a EW fault as well as by a few faults trending ENE.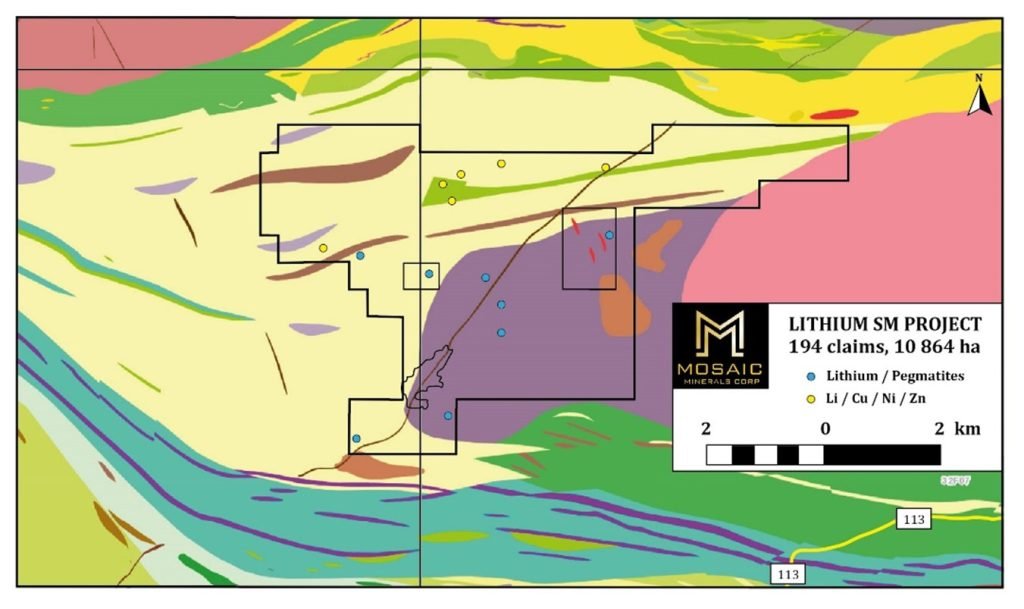 In the southern part of the property, numerous lithium anomalies associated directly with pegmatites currently suggest a favorable horizon of more than 5 kilometers.
Read more
Mirabelli SM
Located about 15 km south of the municipality of Eastmain and comprising 290 mining claims (15,370 Hectares), Mirabelli SM is accessible by the main road crossing the northeast part of the property and is located west of the James Bay Lithium project of Allkem (Galaxy Lithium Canada).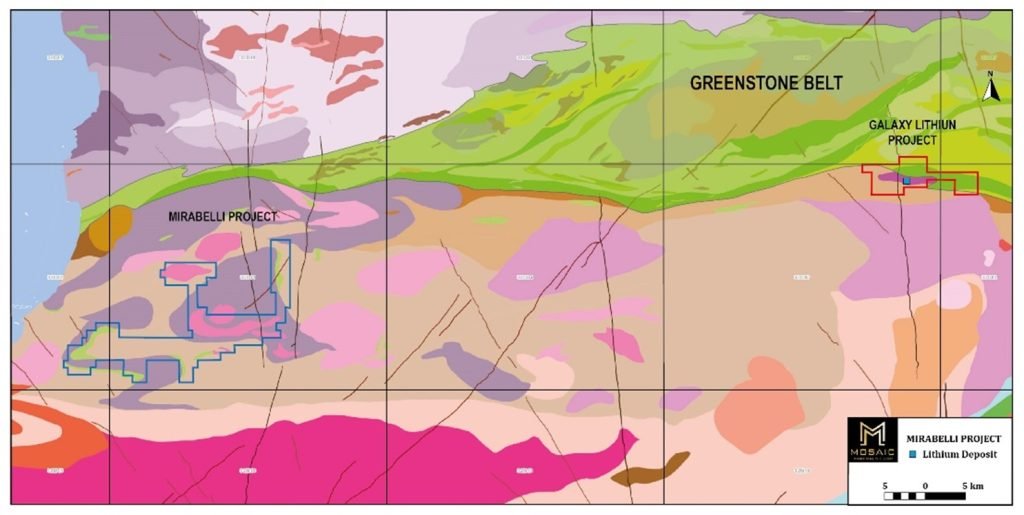 read more
Maqua SM Project
According to data from the Quebec Ministry of Energy and Natural Resources (MERN), the new Maqua SM project, consisting of 69 cells with a size of approximately 3,569 hectares and located in the granitic suite of Vieux Comptoir, can offer phases of spodumene pegmatites. There is very little geological data currently available on this project. This vast project is located west of the Mia L1 and Mia L2 lithium showings recently acquired by Queensland Gold Hills (See press release of November 28, 2022).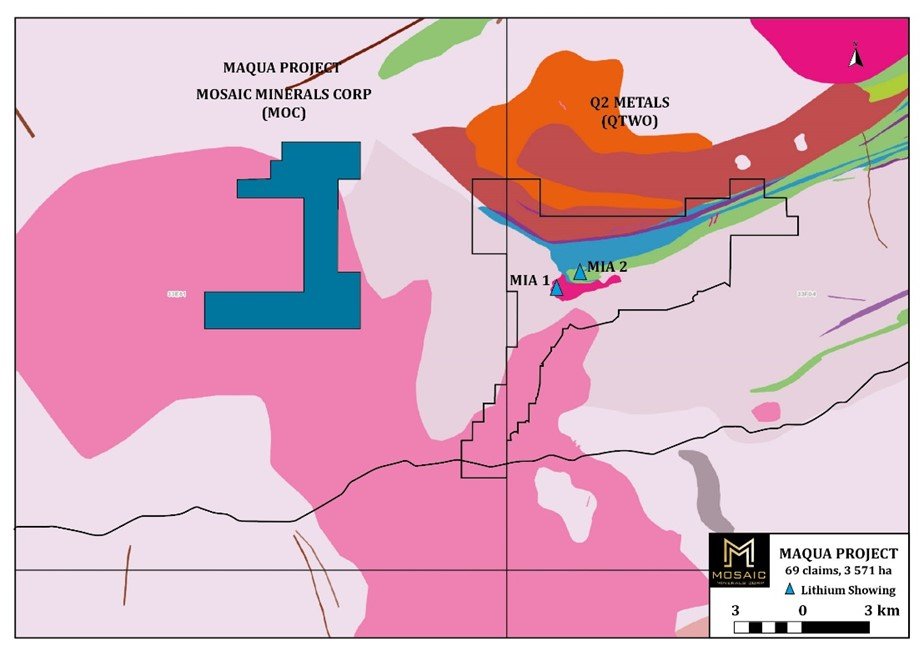 read more
Dalmas SM Project
Located in the Adina lithium showing sector from Winsome Resources. Recent drilling by Winsome has highlighted over 160 meters of pegmatite collectively intercepted while drilling below the recently discovered Jamar outcrop at Adina. In addition, the most recent analyzes of the Jamar outcrop yielded exceptional grades of up to 4.89% Li2O.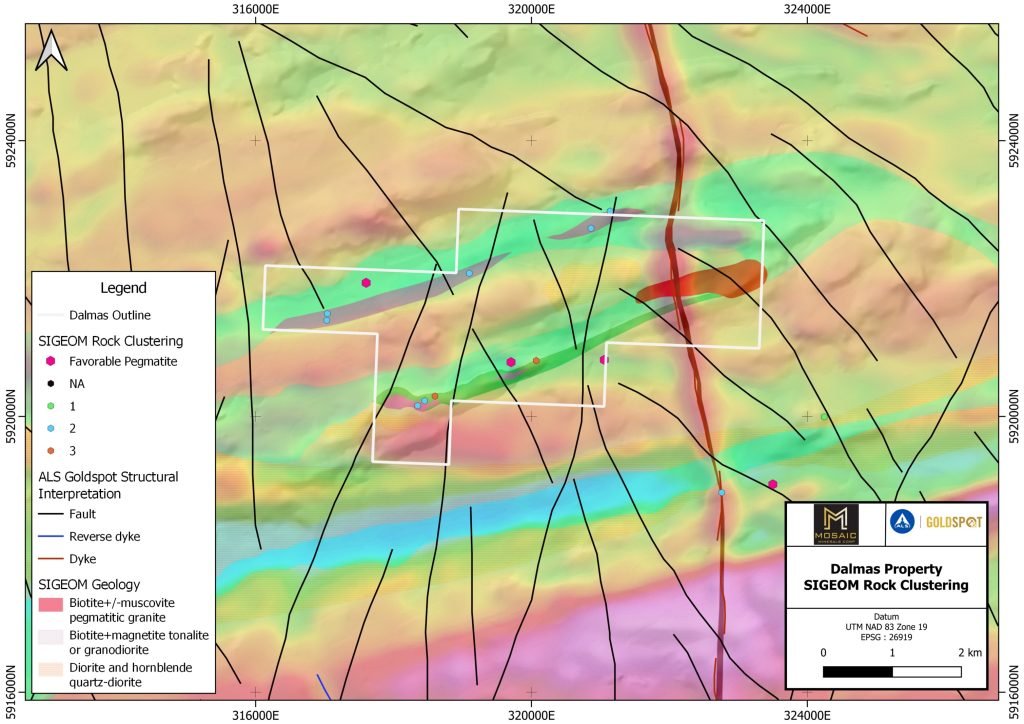 read more
Abrat SM Project 
The Abrat SM project consisting of 148 cells with an area of ​​approximately 6,590 hectares located approximately 50 km east of the municipality of Kangiqsualujjuaq, in Nunavik, Quebec. Nearly 25 rock outcrops visited by the MERN demonstrate the potential presence of a NW-SE pegmatiferous corridor of nearly 20 kilometers. Five samples from outcrops located in this corridor were analyzed by the MERN and the results showed significant values ​​in lithium ranging from 162 to 359 ppm, in cesium (from 10 to 49 ppm) and in rubidium (from 95 to 443 ppm) over a distance of more than seven (7) km.
The presence of lanthanum as well as thorium, yttrium, cerium, molybdenum, and zinc are also noted in this corridor.
read more
Gervais SM Project
The Gervais SM project consists of four (4) mining blocks in a sector comprising several showings of cobalt, copper, zinc, and nickel as well as lithium. This project totals 28 cells for a dimension of approximately 1,535 hectares. This project is located west of the Sirmac and Moblan lithium showings.
read more
Bordier SM Project
The Bordier project comprising 48 cells for an area of approximately 2,651 hectares is located further south, along the Ontario border. According to the MERN, several random rock samples revealed significant lithium values.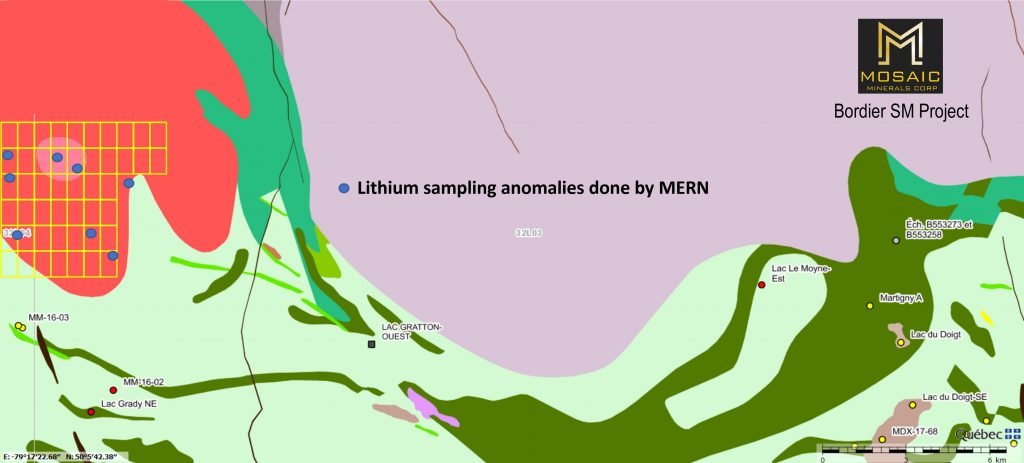 Sakami SM Project
Made up of 11 cells covering an area of 570 hectares, the Sakami SM property is in contact with a biotite paragneiss and a white pegmatitic granite and an alkali feldspar and biotite and muscovite, tourmaline, garnet, and beryl in the Lake Sakami area.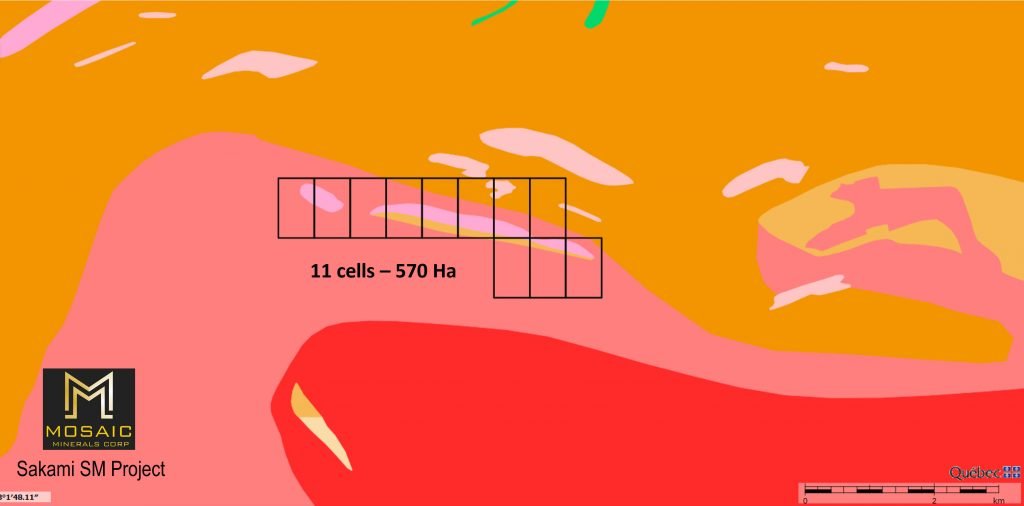 Depending on the exploration budgets available, these projects should all be the subject of exploration work including a geological, geochemical, and geophysical survey as well as detailed sampling during the spring and summer of 2023. All these projects are accessible year-round via main and forest roads.
Lithium is a key player in the global decarbonization effort, as it is a key component of lithium-ion batteries as well as the next generation lithium-iron-phosphate (LFP) batteries used to power electric vehicles (EV). This essential mineral is also widely used in other industrial applications, such as cell phones, laptops, glass, and ceramic production, among others.