APRIL 25, 2023 – Montreal, Quebec – Mosaic Minerals Corporation (CSE: MOC) ("Mosaic" or "The Company") has obtained a first interim report identifying several pegmatites containing lithium showings as well as a set of potential unanalyzed pegmatites or visited for lithium in previous years having been listed on the company's various lithium projects.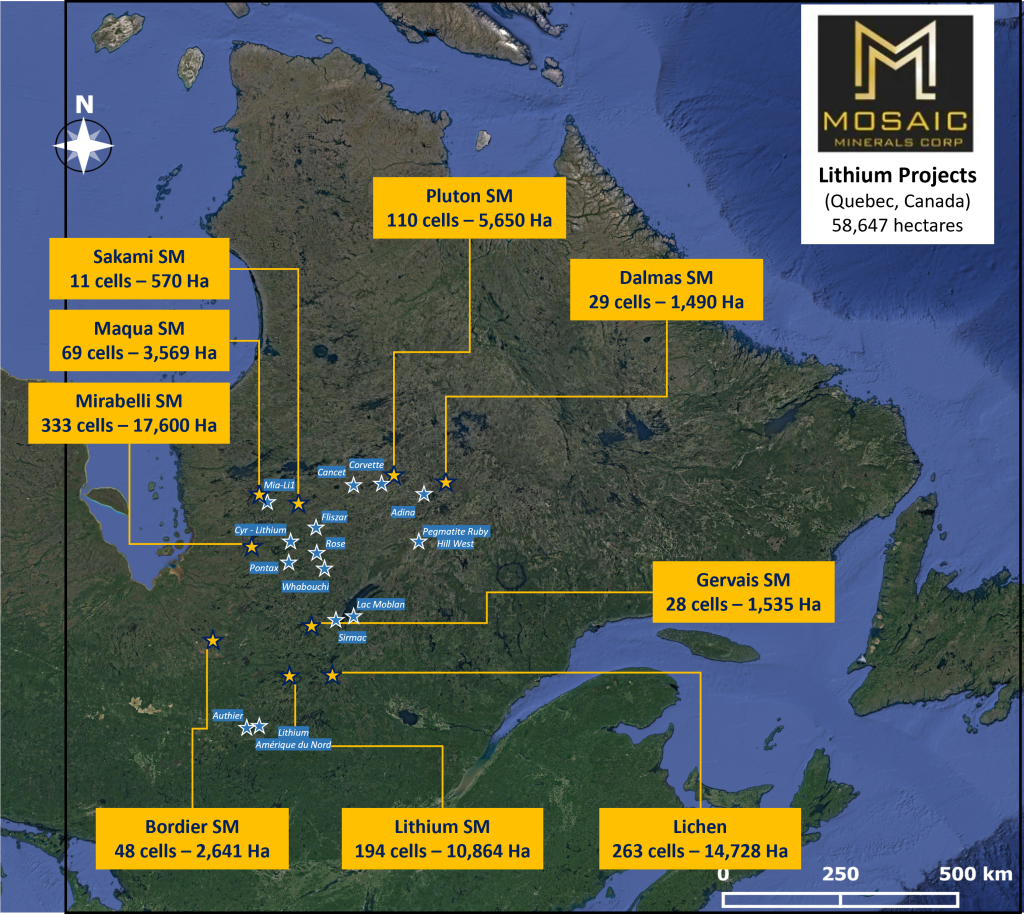 In order to identify these different exploration targets for lithium, ALS GoldSpot Discoveries (AGD) undertook an extensive process of interpreting and integrating all available geoscience data on the nine (9) 100% owned lithium projects by the Company including rock and sediment geochemistry, geophysics, topography and descriptions of rocks and outcrops. This process involved several processing steps to define areas of interest, such as the enhancement and interpretation of sediment surveys, the analysis of lithogeochemistry to detect favorable contexts for the mineralization of lithium minerals, the analysis descriptions of outcrops and rocks to detect the presence of indicators and/or associated minerals as well as lineamental analysis of topographic data and geophysical surveys to identify structures potentially associated with the emplacement of pegmatites.
A remote sensing study is also underway on multispectral satellite data to identify and characterize pegmatite outcrops that are likely to contain spodumene mineralization. The results obtained will then be integrated into the final target definition process in order to prioritize the sectors to be investigated for the field prospecting campaign planned for the summer of 2023 on the Maqua SM, Pluton SM, Mirabelli SM, Lithium SM and Lichen projects.
"We are very pleased to see that the choice of our staked properties for lithium offers concrete opportunities. The work of ALS GoldSpot demonstrates that our various projects contain several potential pegmatite targets favorable to the presence of spodumene. We will still have to do the basic exploration work before confirming everything. Which should be done by the end of summer 2023," said Jonathan Hamel, President, and CEO of Mosaic.
The Lithium SM project, located north of Quévillon, will receive special attention. This project, according to data compiled by AGD, includes some lithium showings associated with the presence of pegmatites. One of these showings revealed a lithium value of 299 ppm while three other lithium showings taken along another pegmatite located in the same sector gave lithium values of up to 94 ppm. The various pegmatites identified on Lithium SM follow each other over several kilometers and have been analyzed very little over the years.
To the north of the property, other lithium showings up to a grade of 157 ppm are associated with strategic minerals such as copper and nickel. They are located in geological formations located near the tonalitic intrusives. Some drillings carried out in this sector by Umex in the 1970s showed the presence of sulphides favorable to the presence of strategic minerals. This project is accessible by a set of forest roads which will facilitate exploration work.
On the Maqua SM project, AGD has identified more than ten zones favorable to the presence of pegmatites, the majority of which are located in an east-west corridor of several kilometers starting from the Mia 1 and Mia 2 lithium showings. The Vieux Comptoir granitic suite offers an environment conducive to the presence of pegmatites that may contain spodumene, however, no sampling or geochemical survey has yet been done on this project.
For the Mirabelli SM project, AGD has so far identified more than fifteen pegmatites without any analysis for lithium having been carried out in previous years. AGD also notes that several pegmatites are located along a major NE-SW trending fault, in contact with a paragneiss and a granite. Following their recommendation, the Company acquired by map staking 43 additional mining claims related to the Mirabelli SM property for a total of 333 claims covering an area of approximately 17,600 hectares.
The Lichen property, located near the municipality of Chapais in Jamésie, will also be the subject of an intensive exploration program in the area of syenitic and tonalitic intrusives. In addition to the presence of pegmatites, this property will be visited for its potential to contain various strategic minerals such as copper, zinc, cobalt, cerium, tantalum, niobium and nickel. Following AGD's recommendations, the company added 69 new claims to this project for a total of 263 claims covering an area of approximately 14,728 hectares. Finally, the Pluton SM project, located on the eastern edge of the Patriot Battery Metals Corvette lithium project, includes two areas of interest which will be visited next summer.
Management will determine the next steps based on the results obtained during this first phase of work. The Company does not rule out the possibility of entering into strategic partnerships for the development of its lithium projects.
The technical content of this press release has been reviewed and approved by Mr. Gilles Laverdière, P.Geo., an independent consulting geologist and a Qualified Person as defined in NI 43-101.
About Mosaic Minerals Corporation
Mosaic Minerals Corp. is a Canadian mining exploration company listed on the Canadian Securities Exchange (CSE: MOC) focusing on the exploration of minerals such as Nickel and Lithium in the province of Quebec.
This release contains certain "forward-looking information" under applicable Canadian securities laws concerning the Arrangement. Forward-looking information reflects the Company's current internal expectations or beliefs and is based on information currently available to the Company. In some cases, forward-looking information can be identified by terminology such as "may", "will", "should", "expect", "intend", "plan", "anticipate", "believe", "estimate", "projects", "potential", "scheduled", "forecast", "budget" or the negative of those terms or other comparable terminology. Assumptions upon which such forward-looking information is based includes, among others, that the conditions to closing of the Arrangement will be satisfied and that the Arrangement will be completed on the terms set out in the definitive agreement. Many of these assumptions are based on factors and events that are not within the control of the Company, and there is no assurance they will prove to be correct or accurate. Risk factors that could cause actual results to differ materially from those predicted herein include, without limitation: that the remaining conditions to the Arrangement will not be satisfied; that the business prospects and opportunities of the Company will not proceed as anticipated; changes in the global prices for gold or certain other commodities (such as diesel, aluminum and electricity); changes in U.S. dollar and other currency exchange rates, interest rates or gold lease rates; risks arising from holding derivative instruments; the level of liquidity and capital resources; access to capital markets, financing and interest rates; mining tax regimes; ability to successfully integrate acquired assets; legislative, political or economic developments in the jurisdictions in which the Company carries on business; operating or technical difficulties in connection with mining or development activities; laws and regulations governing the protection of the environment; employee relations; availability and increasing costs associated with mining inputs and labour; the speculative nature of exploration and development; contests over title to properties, particularly title to undeveloped properties; and the risks involved in the exploration, development and mining business. Risks and unknowns inherent in all projects include the inaccuracy of estimated reserves and resources, metallurgical recoveries, capital and operating costs of such projects, and the future prices for the relevant minerals. The Canadian Securities Exchange does not accept responsibility for the adequacy or accuracy of this release.