MONTREAL, July 25, 2023 — Mosaic Minerals Corporation (CSE: MOC) ("Mosaic" or "The Company") acquired by map staking and from two prospectors the Abrat SM project consisting of 148 cells with an area of ​​approximately 6,590 hectares located approximately 50 km east of the municipality of Kangiqsualujjuaq, in Nunavik, Quebec.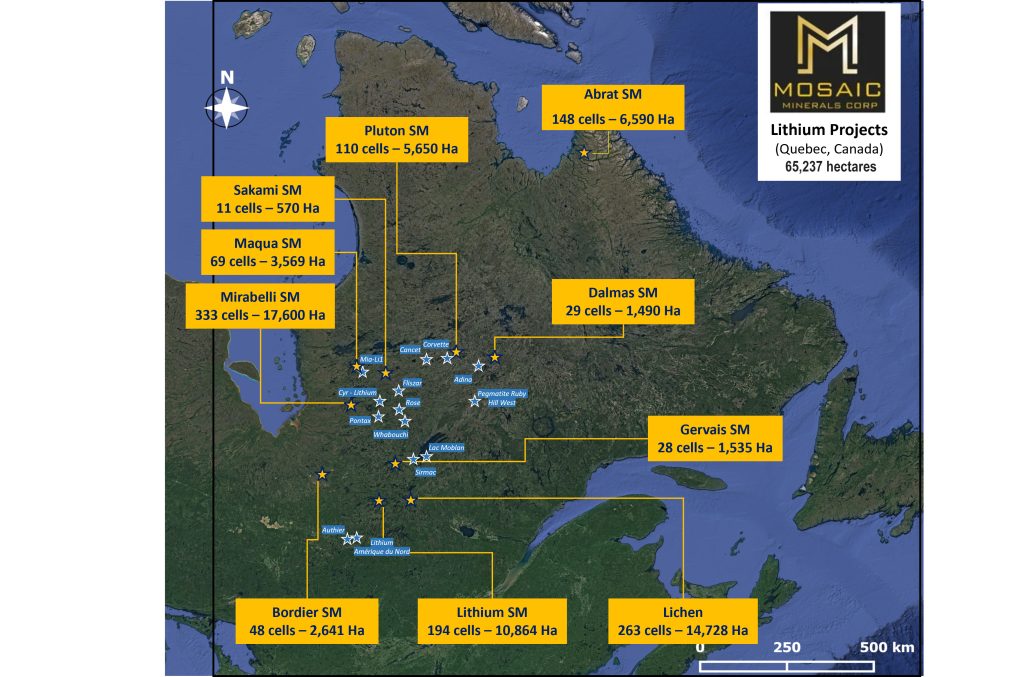 The Abrat SM project is located in a geological environment favorable to the presence of lithium.
Nearly 25 rock outcrops visited by the MERN demonstrate the potential presence of a NW-SE pegmatiferous corridor of nearly 20 kilometers. Five samples from outcrops located in this corridor were analyzed by the MERN and the results showed significant values ​​in lithium ranging from 162 to 359 ppm, in cesium (from 10 to 49 ppm) and in rubidium (from 95 to 443 ppm) over a distance of more than seven (7) km. This pegmatiferous corridor is mainly owned by the company Mosaic (148 cells) as well as by the private company Arlène Explorations (8 cells).
The presence of lanthanum as well as thorium, yttrium, cerium, molybdenum, and zinc are also noted in this corridor.
"The Abrat SM project adds to our portfolio which contains over 65,000 hectares of critical mineral potential. Mosaic is very well positioned in most active camps for lithium exploration, and we believe that Northern Quebec still holds great opportunities," concluded Jonathan Hamel, President, and CEO of Mosaic Minerals.
Eighty claims were acquired from two prospectors in return for 270,000 common shares of the company and a 1% NSR royalty.
The technical content of this press release has been reviewed and approved by Mr. Gilles Laverdière, P.Geo., an independent consulting geologist and a Qualified Person as defined in NI 43-101.
About Mosaic Minerals Corporation
Mosaic Minerals Corp. is a Canadian mining exploration company listed on the Canadian Securities Exchange (CSE: MOC) focusing on the exploration of critical minerals such as Nickel and Lithium in the province of Quebec.
This release contains certain "forward-looking information" under applicable Canadian securities laws concerning the Arrangement. Forward-looking information reflects the Company's current internal expectations or beliefs and is based on information currently available to the Company. In some cases, forward-looking information can be identified by terminology such as "may", "will", "should", "expect", "intend", "plan", "anticipate", "believe", "estimate", "projects", "potential", "scheduled", "forecast", "budget" or the negative of those terms or other comparable terminology. Assumptions upon which such forward-looking information is based includes, among others, that the conditions to closing of the Arrangement will be satisfied and that the Arrangement will be completed on the terms set out in the definitive agreement. Many of these assumptions are based on factors and events that are not within the control of the Company, and there is no assurance they will prove to be correct or accurate. Risk factors that could cause actual results to differ materially from those predicted herein include, without limitation: that the remaining conditions to the Arrangement will not be satisfied; that the business prospects and opportunities of the Company will not proceed as anticipated; changes in the global prices for gold or certain other commodities (such as diesel, aluminum and electricity); changes in U.S. dollar and other currency exchange rates, interest rates or gold lease rates; risks arising from holding derivative instruments; the level of liquidity and capital resources; access to capital markets, financing and interest rates; mining tax regimes; ability to successfully integrate acquired assets; legislative, political or economic developments in the jurisdictions in which the Company carries on business; operating or technical difficulties in connection with mining or development activities; laws and regulations governing the protection of the environment; employee relations; availability and increasing costs associated with mining inputs and labour; the speculative nature of exploration and development; contests over title to properties, particularly title to undeveloped properties; and the risks involved in the exploration, development and mining business. Risks and unknowns inherent in all projects include the inaccuracy of estimated reserves and resources, metallurgical recoveries, capital and operating costs of such projects, and the future prices for the relevant minerals. The Canadian Securities Exchange does not accept responsibility for the adequacy or accuracy of this release.