September 26, 2023 – Montreal, Quebec – Mosaic Minerals Corporation (CSE: MOC) ("Mosaic" or "The Company") is pleased to announce that, following a recent compilation of all historical drilling data on the Amanda project, the Company traced the presence of pegmatites in the description of the logs of the seventeen drillings carried out on this project between 1997 and 2010.
Highlights
17 historical drillings with pegmatites not analyzed for lithium (GM 55430, GM 56493, GM 60051).
34 pegmatite samples taken by Vanstar Mining Resources in 2020 (2020 Technominex Report – Amanda Project) not analyzed for lithium.
31 pegmatite samples taken by the MRNF in 1998 not analyzed for lithium.
Visual presence of spodumene*
Presence of indicator minerals such as beryl, tourmaline, muscovite, garnet as well as cesium, tantalum, and rubidium in most samples.
Pegmatite swarms in several pegmatite corridors varying from three to seven km in length (on the Amanda project) and widths ranging from a few meters to nearly 30m.
Drilling AC-2010-04 located along a corridor revealed 9.8m @ 0.8% Li2O of 212.8m including 5.1m @ 1% Li2O and 1m @ 1.2% Li2O (GM 65074). *
Drilling AC-2010-12 on the western edge of the Amanda project intersected a pegmatite with spodumene (not analyzed – GM 65074) *
* See maps
Almost no analysis was carried out at the time to verify the lithium potential of these pegmatites intersected by drilling. According to certain information obtained, the core samples are still stacked on wooden pallets near the old camp. A team will go to the site as soon as possible to check if it is possible to recover them.
In 2020, Vanstar Mining Resources, following a geological and prospecting survey, counted a swarm of pegmatites forming several favorable NE-SW direction corridors with a length varying from 3 to 7 km. Some of these corridors are located along regional faults. The DEM helicopter survey done by Novatem well defined the areas of high relief that could be associated with the presence of pegmatites (see map below).
Of the 34 pegmatite samples collected by the company, most of these contained beryl, massive tourmaline, muscovite as well as garnet. A few samples also contained spodumene.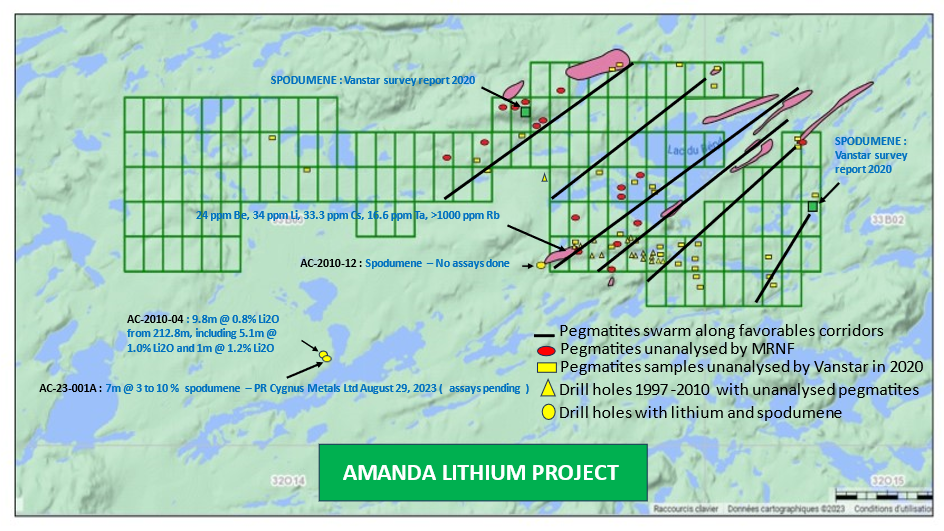 "The 2020 exploration work confirms the extension of several pegmatites listed by the MRNF in 1998. It is also reassuring to see that certain drilling – 17 in total – have intersected these same pegmatites up to more than 160 meters vertical depth. Amanda, in addition to offering very interesting gold potential, therefore seems to contain several indications as to its lithium potential. Moreover, numerous pegmatite samples taken throughout the property (nearly 50 samples) demonstrated the regular presence of indicator minerals as well as the presence of spodumene in certain samples. We also note that on Cygnus Metals' Auclair project – located on our western border – some drilling intersected pegmatites with spodumene and lithium. With this project, we are in the presence of a very powerful environment capable of containing lithium enrichment in addition to containing multiple gold showings" underlines Mr. Jonathan Hamel, President, and CEO of Mosaic.
The main objective of the 2020 prospecting program was to revisit known showings as well as to find new significant gold showings. The search for lithium or other minerals and metals was not among the priorities set at the time by this short exploration program.
Geophysical survey
Furthermore, a helicopter-borne aerial magnetic survey recently completed on the Amanda project noted numerous anomalies of high magnetic intensities establishing the presence of folded structures and faults possibly associated with iron formations and various gold showings listed on the Amanda project.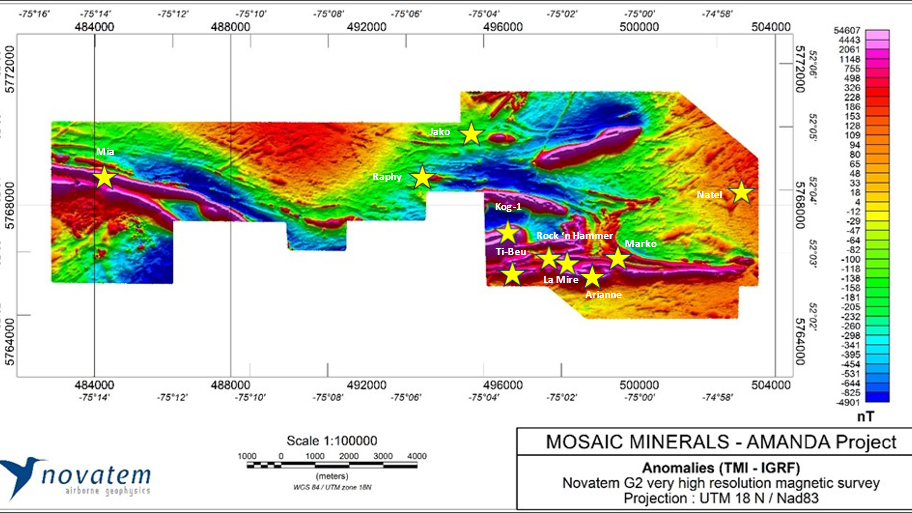 According to the geological and prospecting survey of Vanstar Mining Resources 2020, five new gold showings (Jako, Marko, Mia, Natel and Raphy) were added to the historical list of known showings: the Arianne, Ti-Beu, La Mire, Rock'n Hammer and Kog 1.
Some other minor gold showings have also been located in the western part of the project.
Comprised of 145 mining claims with an area of approximately 7,677 hectares, Amanda benefits from excellent infrastructure, with year-round road access and high voltage transmission lines crossing the project, in addition to being located less than 80 km from Nemiscau airport and only 70 km northeast of Whabouchi (55.7 Mt at 1.4% Li2O).
The management of the Company will soon apply for a wood cutting permit to allow land access to the eastern part of the property to prepare an initial drilling program as soon as possible.
The technical content of this press release has been reviewed and approved by Mr. Gilles Laverdière, P.Geo., an independent consulting geologist and a Qualified Person as defined in NI 43-101.
About Mosaic Minerals Corporation
Mosaic Minerals Corp. is a Canadian mining exploration company listed on the Canadian Securities Exchange (CSE: MOC) focusing on the exploration of critical minerals such as Nickel and Lithium in the province of Quebec.
This release contains certain "forward-looking information" under applicable Canadian securities laws concerning the Arrangement. Forward-looking information reflects the Company's current internal expectations or beliefs and is based on information currently available to the Company. In some cases, forward-looking information can be identified by terminology such as "may", "will", "should", "expect", "intend", "plan", "anticipate", "believe", "estimate", "projects", "potential", "scheduled", "forecast", "budget" or the negative of those terms or other comparable terminology. Assumptions upon which such forward-looking information is based includes, among others, that the conditions to closing of the Arrangement will be satisfied and that the Arrangement will be completed on the terms set out in the definitive agreement. Many of these assumptions are based on factors and events that are not within the control of the Company, and there is no assurance they will prove to be correct or accurate. Risk factors that could cause actual results to differ materially from those predicted herein include, without limitation: that the remaining conditions to the Arrangement will not be satisfied; that the business prospects and opportunities of the Company will not proceed as anticipated; changes in the global prices for gold or certain other commodities (such as diesel, aluminum and electricity); changes in U.S. dollar and other currency exchange rates, interest rates or gold lease rates; risks arising from holding derivative instruments; the level of liquidity and capital resources; access to capital markets, financing and interest rates; mining tax regimes; ability to successfully integrate acquired assets; legislative, political or economic developments in the jurisdictions in which the Company carries on business; operating or technical difficulties in connection with mining or development activities; laws and regulations governing the protection of the environment; employee relations; availability and increasing costs associated with mining inputs and labour; the speculative nature of exploration and development; contests over title to properties, particularly title to undeveloped properties; and the risks involved in the exploration, development and mining business. Risks and unknowns inherent in all projects include the inaccuracy of estimated reserves and resources, metallurgical recoveries, capital and operating costs of such projects, and the future prices for the relevant minerals. The Canadian Securities Exchange does not accept responsibility for the adequacy or accuracy of this release.